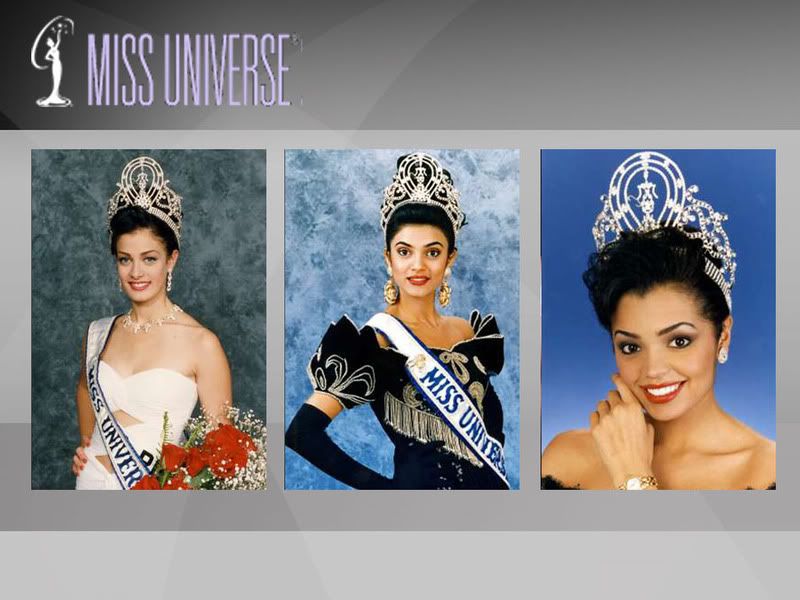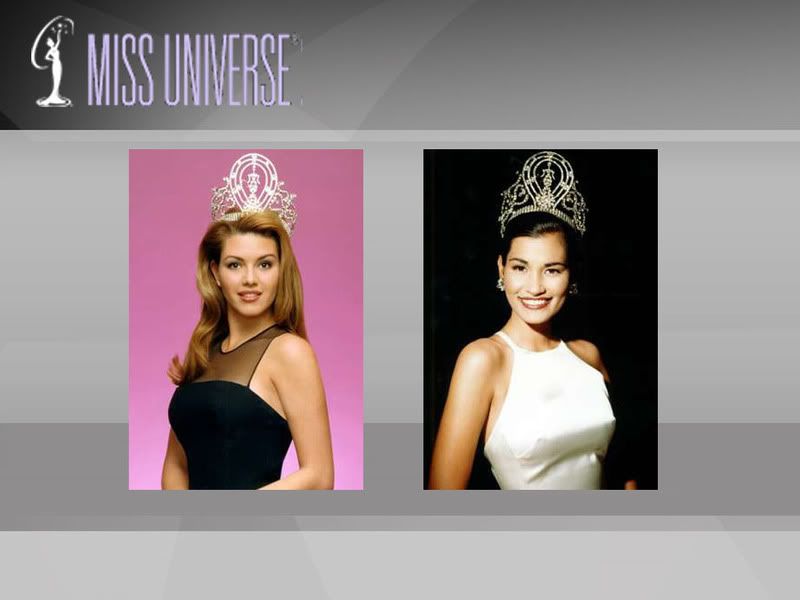 1990
Mona Grudt
NORWAY
Los Angeles, California USA
1st runner-up -
Carol Anne Marie Gist USA
2nd runner-up -
Lizeth Yamile Arevalo COLOMBIA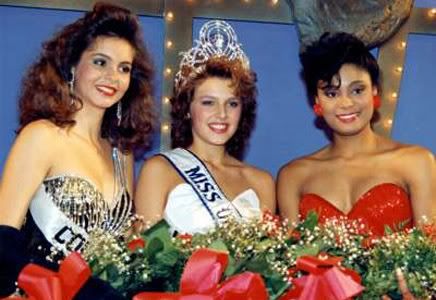 FINALISTS
Rosario Rico Toro del Pilar BOLIVIA
Urania Haltenhoff Nikiforos CHILE
Ma.de los Angeles del Rosario Santiago MEXICO
SEMI-FINALISTS:
Jana Kronkova CZECHOSLOVAKIA
Suzanne Sabloak INDIA
Julide Ates TURKEY
Andreina Katarina Goetz Blohm VENEZUELA
The pageant was celebrating its 30th year anniversary and change came along with such celebrations. Television viewers got an eyeful as the parade of nations showed each delegate in swimsuit and evening gown. From the 10 semi-finalists, 6 finaists were chosen instead of 5. And again this number was trimmed down to three after all 6 finalists answered the dreaded judge's questions. The first batch of 3 finalists were Misses Norway, USA, and Colombia. This year also marked the last reading of the Miss Universe creed by Angela Visser.
1991
Lupita Jones
MEXICO
Las Vegas, Nevada USA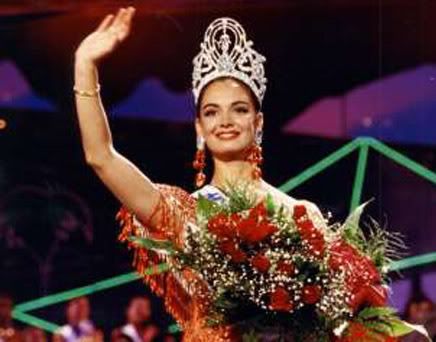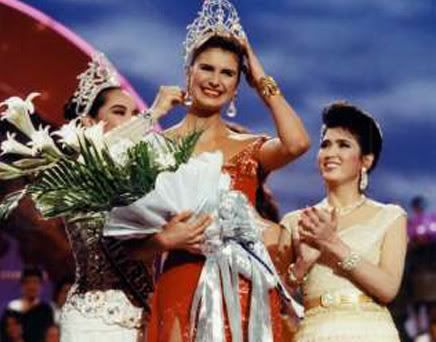 1st runner-up
Paulien Huizinga NETHERLANDS
2nd runner-up
Yulia Lemigova USSR
FINALISTS:
Kimberley Mais JAMAICA
Kelli McCarty USA
Jackeline Rodriguez Strefezza VENEZUELA
SEMI-FINALISTS:
Jacqueline Nelleke Josien Krijger CURACAO
Mareva Georges FRANCE
Vivian Rosanna Benitez Brizuela PARAGUAY
Natasha Pavlovic YUGOSLAVIA
There was no doubt that early favorite Mexico's Lupita Jones would do well on pageant night. But not with stiff competition from the likes of statuesque Paulien Huizinga of the Netherlands hoping to repeat Angela Visser's performance only two years before, and USSR's charming Yulia Lemigova, the first delegate from the USSR. Lupita prevailed with the help of a large cheering section in the audience giving Mexico it's only Miss Universe crown to date
1992
Michelle McLean
NAMIBIA
Bangkok, Thailand
1st runner-up
Diana Paola Turbay COLOMBIA
2nd runner-up
Madhushri Sapre INDIA
FINALISTS:
Anke van Dermeersch BELGIUM
Vivian Jansen NETHERLANDS
Carolina Eva Izsak Kemenify VENEZUELA
SEMI-FINALISTS:
Georgina Denahy AUSTRALIA
Lisa Maree de Montalk NEW ZEALAND
Monica Brodd SWEDEN
Shannon LaRhea Marketic USA
Michelle McLean became the second African to win the Miss Universe title after Margaret Gardiner in 1978. The year was 1992. The site was exotic Bangkok, Thailand and another stunning visual feast to the televiewer and a appropriate background for the 78 delegates in competition. One of the heaviest competitions the Miss Universe pageant ever had was indeed this one with several veteran delegates from the previous year's Miss World pageant including Michelle, where she wound up as a finalist.
1993
Dayanara Torres
PUERTO RICO
Mexico City, Mexico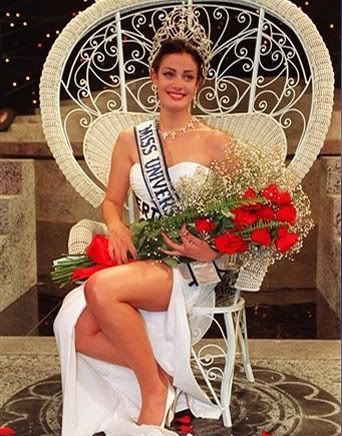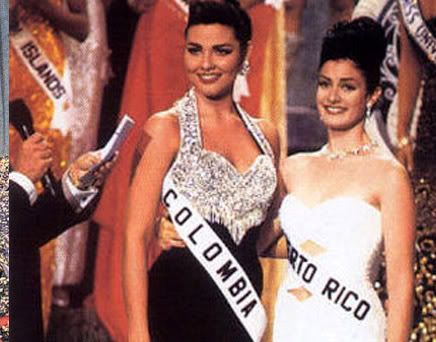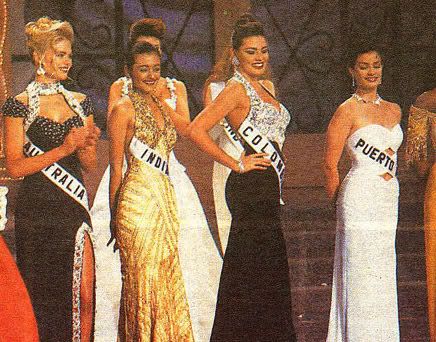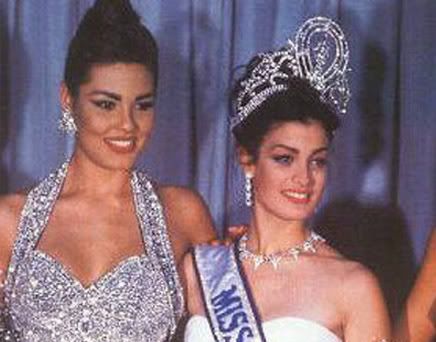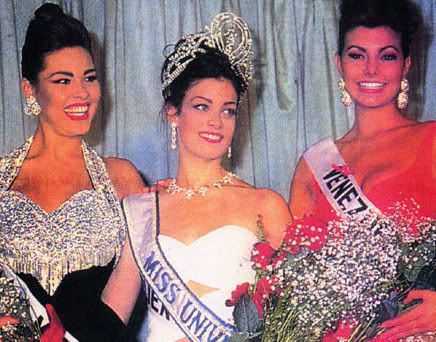 1st runner-up
Paula Andrea Betancourt COLOMBIA
2nd runner-up
Milka Yelisava Chulina VENEZUELA
FINALISTS:
Voni Delfos AUSTRALIA
Namrata Shirodkar INDIA
Kenya Summer Moore USA
SEMI-FINALISTS:
Leila Cristine Schuster BRAZIL
Pavlina Barbukova CZECH REPUBLIC
Tarja Smura FINLAND
Eugenia del Pilar Santana Alba SPAIN
Another year of surprises was this year as Puerto Rico's Dayanara Torres squeaks past preliminary front runners Milka Chulina of Venezuela, Kenya Moore of the USA, and Voni Delfos of Australia with her sweet and charming demeanor amid the loud and unruly Mexican audience who at one point booed the entrance of Miss USA in the semi-finals.
1994
Sushmita Sen
INDIA
Manila, Philippines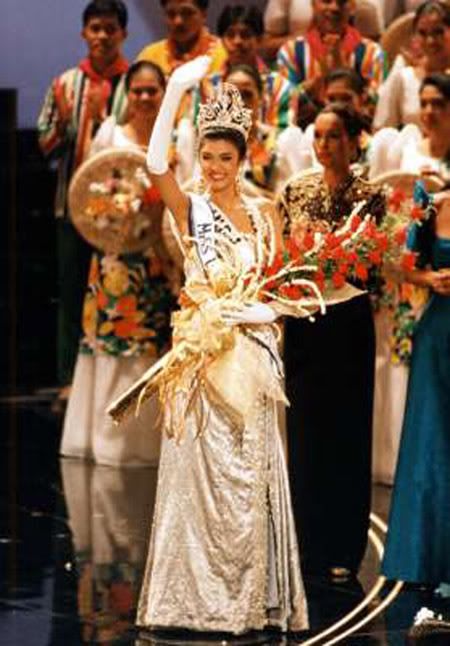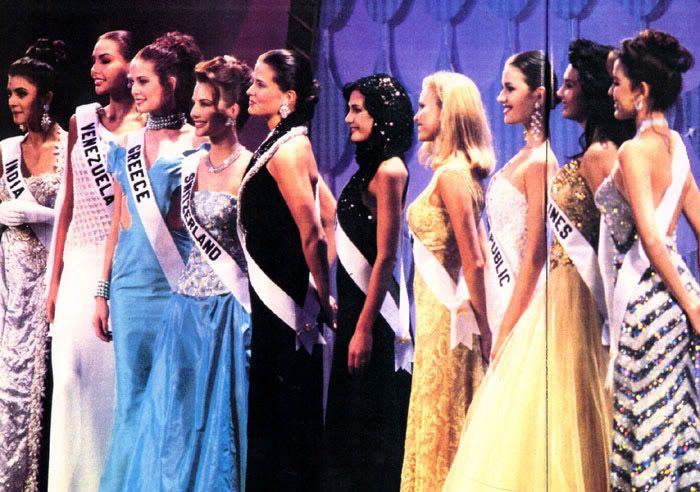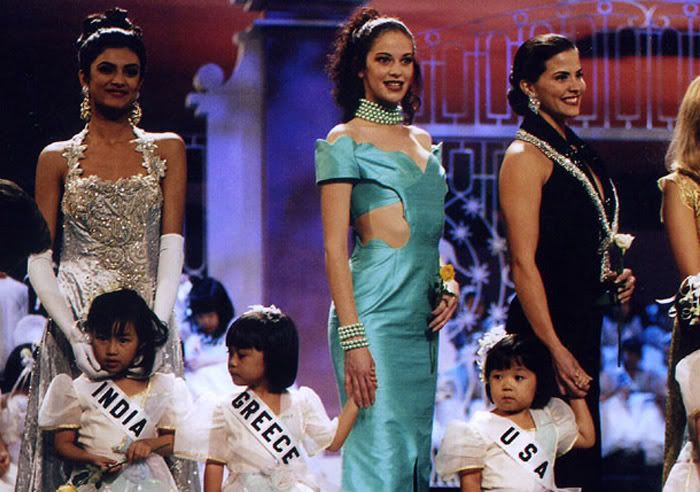 1st runner-up
Carolina Gomez COLOMBIA
2nd runner-up
Minorka Marisela Mercado VENEZUELA
FINALISTS:
Charlene Bonnin Gonzalez PHILIPPINES
Silvia Lakatosova SLOVAK REPUBLIC
Frances Louise Parker USA
SEMI-FINALISTS:
Rea Toutounzi GREECE
Arianna David ITALY
Dominique Forsberg SWEDEN
Patricia Fässler SWITZERLAND
Another feast for the televiewers eye as Manila hosts te pageant once again after 25 years. Dark horse Sushmita Sen radiates pure charm and intelligence as she overturns favorites hometown girl Charlene Gonzales, press favorite Christine Roelandts of Belgium, USA's Lu Parker, Minorka Mercado of Venezuela and preliminary front runner Carolina Gomez of Colombia to win the title. Sushmita wins the first of two Miss Universe crowns in a decade that proves India as a powerhouse of beauty pageant history.
1995
Chelsi Smith
USA
Windhoek, Namibia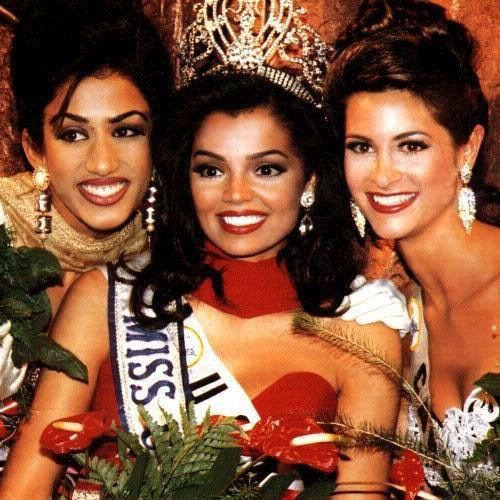 1st runner-up
Manpreet Brar INDIA
2nd runner-up
Lana Buchberger CANADA
FINALISTS:
Desirée Lowry Rodriguez PUERTO RICO
Arlene Peterkin TRINIDAD/TOBAGO
Denyse del Carmen Floreano Camargo VENEZUELA
SEMI-FINALISTS:
Tatiana Leonor Castro Abuchaibe COLOMBIA
Cándida Lara Betances DOMINICAN REP.
Eleanora Beatrice Carrillo Alamanni EL SALVADOR
Augustine Masilela SOUTH AFRICA
Newly indpendent Namibia hosts this year's pageant. Namibia's own Michelle McLean had won the title only two years before making it even more timely. This year also marks the year the pageant is first held in Africa and this pageant attracted the most number of delegates ever, 82. This is also the first time since 1984 that South Africa had sent a delegate in the person of Augustine Masilela, and she makes the semi-finals. India almost won back to back titles as Manpreet Brar barely misses the tiel and winds up runner-up to the USA's Chelsi Smith, a consistent favorite even in the preliminaries. Chelsi is the 6th American to win the title, further strengthening the USA's domination of the pageant.
1996
Alicia Machado
VENEZUELA
Las Vegas, Nevada
USA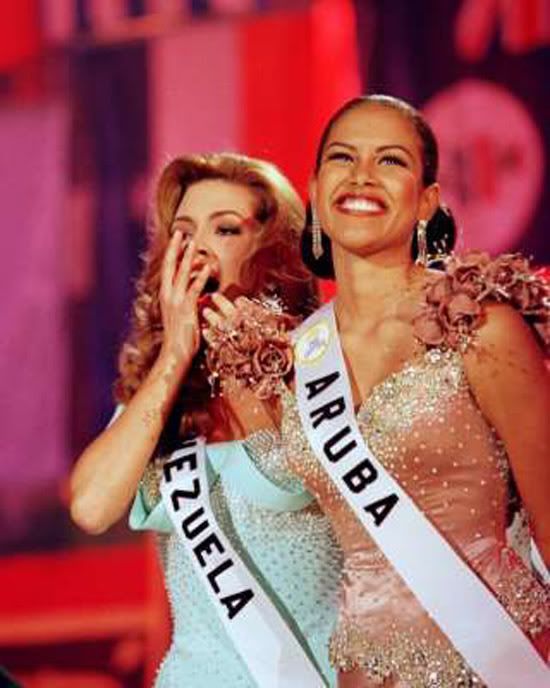 1st runner up
Taryn Scheryl Mansell ARUBA
2nd runner-up
Iyabode Ololade Odusoga FINLAND
FINALISTS:
Vanessa Guzmán Niebla MEXICO
Ilmira Shamsutdinova RUSSIA
Ali Landry USA
SEMI-FINALISTS:
Carmen Milena Mayorga EL SALVADOR
Sandhya Chib INDIA
Venezuela's Alicia Machado was the clear favorite for the crown as she sashayed and charmed her way to the audience's and judges' hearts on pageant night. Shortly after her crowning, Venezuela's 4th Miss Universe was asked what she would do now that she was Miss Universe…Without hesitation, she replied, "EAT, EAT, EAT!!" She would later allegedly gain more ad more weight reaching an all time high of 150 lbs. which led to speculations of stripping Alicia of her crown. Undaunted, Alicia succumbed to the media blitz and crowned her successor a year later 10 to 15 lbs heavier than on the night she herself captured the Universe.
Natalí Patricia Sacco Angeles PERU
Annika Duckmark SWEDEN
1997
Brook Mahealani Lee
USA
Miami Beach, Florida
USA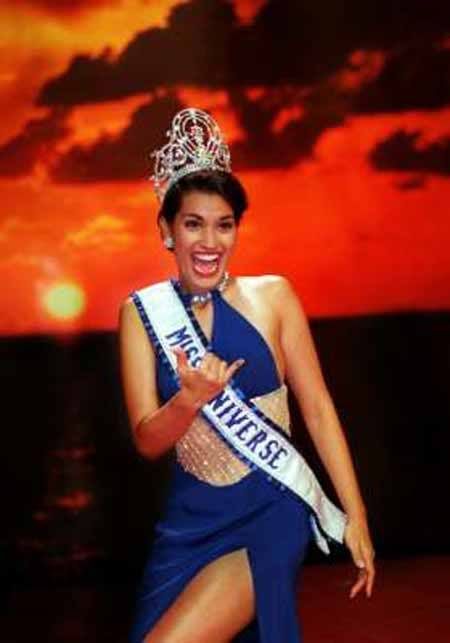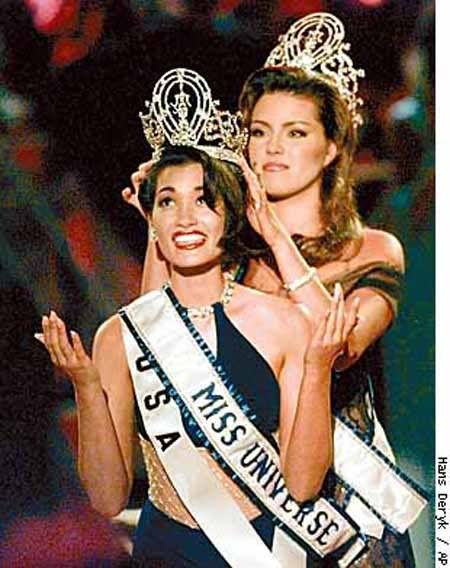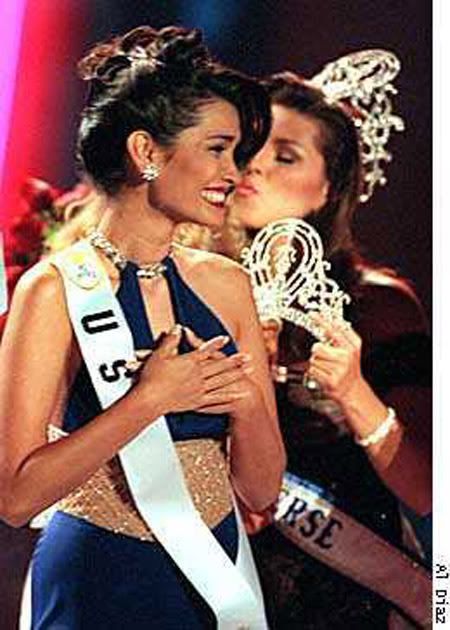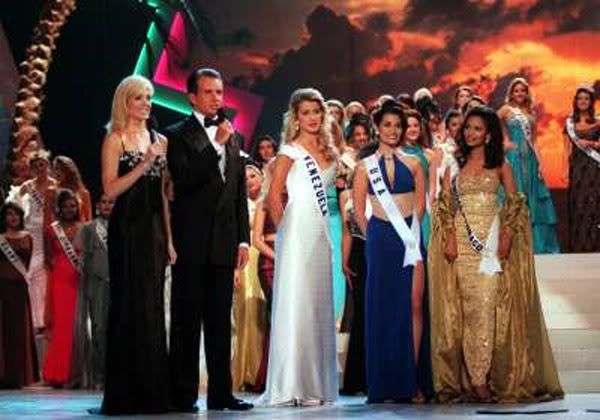 1st runner-up
Marena Jpsefina Bencomo VENEZUELA
2nd runner-up
Margot Rita Bourgeois TRINIDAD/TOBAGO
FINALISTS:
Verna Angela Maria Vasquez CURACAO
Denny Mendez ITALY
Lia Victoria Borrero González PANAMA
SEMI-FINALISTS:
Kristiina Heinmets ESTONIA
Nafisa Joseph INDIA
Ana Rosa Brito Suárez PUERTO RICO
Victoria Lagerstrom SWEDEN
1998
Wendy Fitzwilliam
TRINIDAD/TOBAGO
Honolulu, Hawaii
USA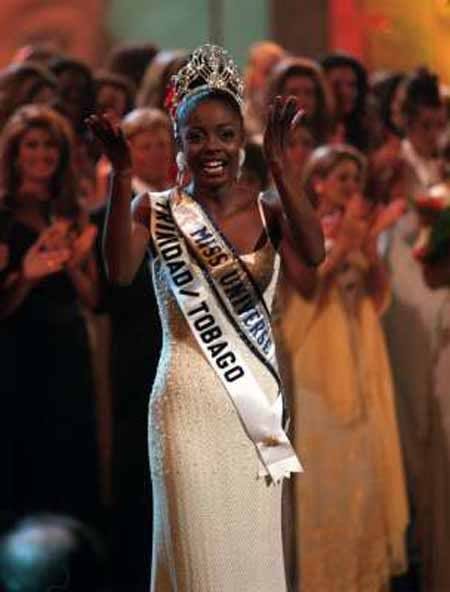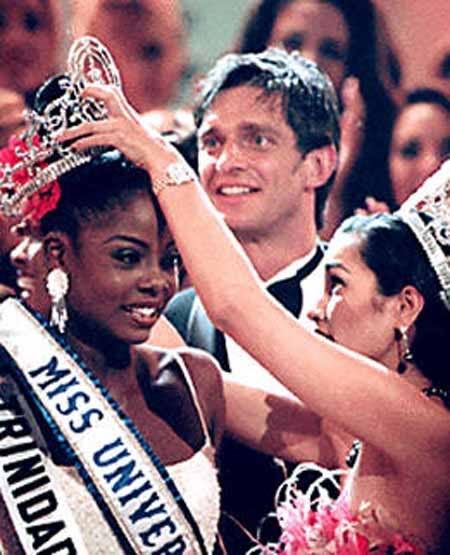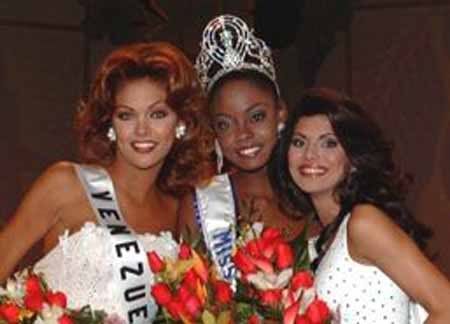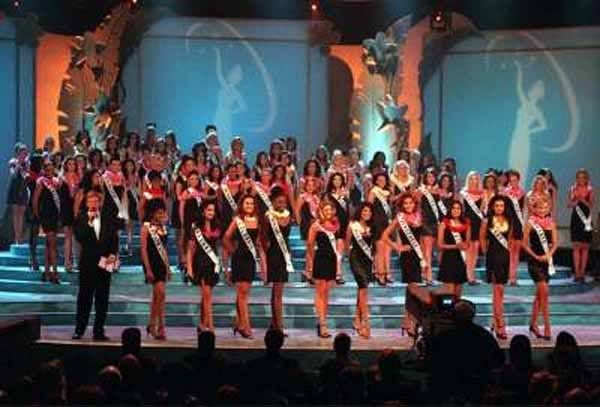 1st runner-up
Veruska Tatiana Ramirez VENEZUELA
2nd runner-up
Joyce Marie Giraud PUERTO RICO
FINALISTS:
Silvia Fernanda Ortiz Guerra COLOMBIA
Shawnae Nicole Jebbia USA
SEMI-FINALISTS:
Michella Dauzacker Marchi BRAZIL
Lymaraina D'Souza INDIA
Andrea Roche IRELAND
Anna Malova RUSSIA
Kerishnie Naicker SOUTH AFRICA
1998 saw the 3rd black woman to win the crown and the second from Trinidad/Tobago in the person of Wendy Fitzwilliam. An unwelcome change, though, is made as television audiences no longer enjoyed the traditional parade of natios with delegates in National Costume but a glitzy fashion-show like slide show of each delegate sans preliminary scores.
1999
Mpule Kwelagobe
BOTSWANA
Trinidad and Tobago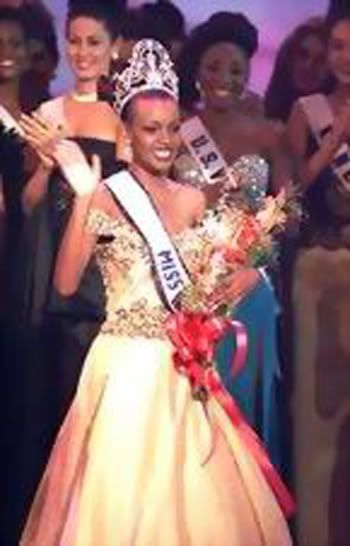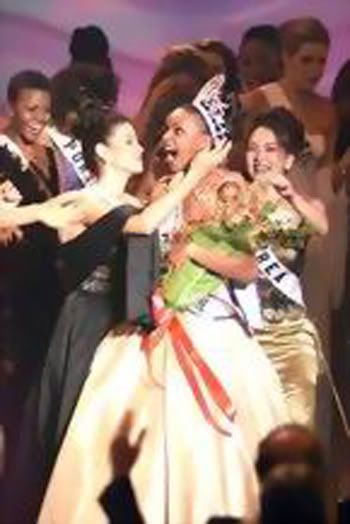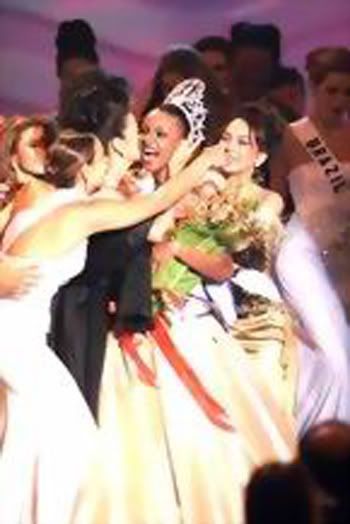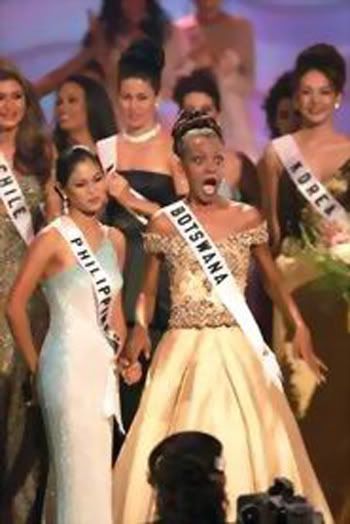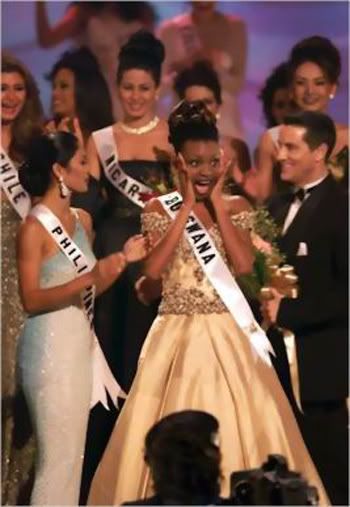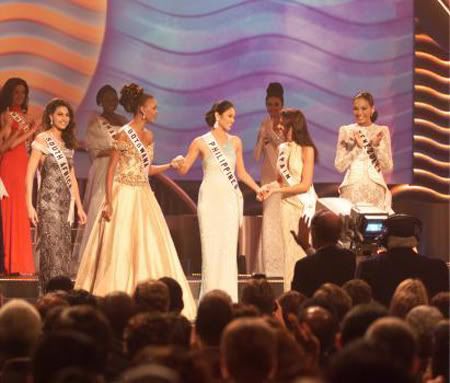 1st runner-up
Miriam Quiambao PHILIPPINES
2nd runner-up
Diana Nogueria SPAIN
FINALISTS:
Sonia Raciti SOUTH AFRICA
Lucbel Carolina Indriago Pinto VENEZUELA
SEMI-FINALISTS:
Akuba Cudjoe GHANA
Gul Panag INDIA
Nicole Haughton JAMAICA
Silvia Salgado Cavazos MEXICO
Brenda Liz Lopez Ramos PUERTO RICO
History was again definitely made this year! Mpule ws the first black African to win the crown, the third Africa after Margaret Gardiner and Michelle McLean. Mpule and Wendy Fitzwilliam were the first set of "black-to-black" winners. USA didn't make the semifinals, not since Barbara Peterson failed to make the cut in 1975. This pageant had the most delegates to attend up to present. Mpule was also the first delegate from her country to ever join the Miss Universe pageant. What a stroke of luck. Mpule, however, was a non-finalist at the Miss World pageant 2 years earlier. (Articles from
http://www.geocities.com/pageantmania
and pictures from MissUniverse.com)